Company Overview
スクロールしてご覧いただけます。
Company Name
AMUSE Co., Ltd.
Established
March 16, 1990
Capital
10 million yen
Business Lineup
Planning, producing, AMUSE characters
Licensing business for AMUSE characters
Planning, producing, and selling merchandising products (mainly plush toys) for retails
Planning, producing, and selling prizes (mainly plush toys) for arcades
Operating arcades
CEO
Katsumi Iijima
Head Office Address
AMUSE Tanpopo Bldg., 11-21 Ueno, 2-Chome, Taitou-ku, Tokyo 110-0005 JAPAN
TEL
+81-3-5834-3799 (Japanese Only)
Branches
■Osaka office
Grand prix 11th bldg. 202, Nishinakajima 3-3-9, Yodogawa-ku,
Osaka-shi, Osaka 532-0011 Japan

■Warehouse
Tatsuzawa1940-1, Moriya-shi, Ibaraki, 302-0118 Japan

Related Company: AMUSE Overseas (trading company)
Counterparties
TokyoOtakuMode、TofuCute、GUNNZO、PIXIE etc,
Captive Arcades
GAO Shinjyuku Kabukicho
Who we are?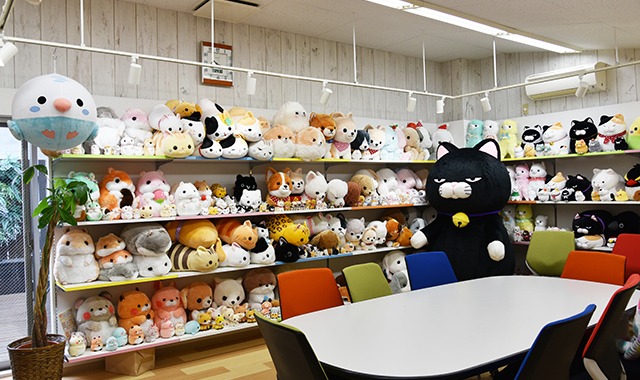 Our principle philosophy is "We share both physical and mental happiness with each other and consider our customers' happiness as ours."
So we work with smile to make our customers happy with our smile. Our passion for products is "Kawaii".
Kawaii is one of popular Japanese culture known all over the world. We believe our passion makes our customers smile.
Our showroom is full of Kawaii products and our mission is to spread them around the world.